As a 6th grader, I read Farewell to Manzanar, the book about a young girl's experience being interned in the Japanese internment camps in 1941.  I also read the Diary of Anne Frank, and then Roots (because mom wouldn't let me watch it on TV).  Then in college, I took a class on the holocaust.
As an empath, I felt the pain of those who suffered during such awful times in history.  But I wasn't interested in being depressed.  I was looking for answers.   Why were so many people willing to tolerate so much cruelty?  Why did so many people just look the other way?
Read More
I showed up to yoga, stressed to the max with everything I had to do.   I had talk to give, taxes to do, people to get back to, a book to complete, and a blog article to write.   As my yoga instructor was guiding us through her sequence,  I found myself cycling between feeling overwhelmed about how I was going get everything done, what I should write my blog article about, and trying to remind myself that I needed to be present.
When suddenly I had an epiphany.
Read More
From Sunny California to long harsh winters
In my late twenties, I moved across the country to Rochester NY, known for it long, cold and harsh winters, with very little sun.   Luckily, I met friend who decided that given where I was from, that he was going to teach me how to survive winter in upstate NY.   When winter approached, he told me about the different types of clothing I needed to get to stay warm, and where to find them.  He also taught me how to embrace what winter had to offer.  He encouraged me to take up winter sports, like cross-country skiing, and ice-skating.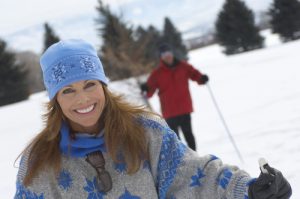 It worked!   While many of my peers complained about winter, I had skiing to look forward to.  Because of where we lived, I could ski from my doorstep!   Cross-country skiing even helped me get around on snow days when it wasn't safe to drive!
Apparently embracing the snow is one strategy the Danish use to get through their long harsh winters as well!
How the Danish survive winter
Known to be the happiest people in the world, the Danish have a practice called hygge that keeps them happy and content no matter how cold or windy it is outside!
What is hygge?
Read More

I had a client who was by most standards so beautiful that she probably could have been a professional model if she had wanted to.  And yet, she was constantly criticizing her looks!   She couldn't be persuaded by other people's positive feedback.  All she could see were the things that she didn't like.  And her criticisms were things that I would have never noticed if she hadn't pointed them out, nor did I  agreed that they made her unattractive!
After clearing her addictive negative thoughts belief systems and emotions about her looks,
Read More
I have a client whose mother died when she was still a baby, and her dad remarried a woman who constantly berated her and made her feel unlovable. Her father was distant and never filled the void and abandonment that she felt after losing her mother. Consequently, she has struggled all her life with feeling unlovable, and desperately craved affection. Whenever I talked with her, her pattern was to criticize herself.
From Feeling Unloved to Hugged
We were working together to release subconscious barriers that made her feel unloved when she suddenly felt
Read More
Have you ever wondered why we self-sabotage?
We often call it addictions. And yes, we develop addictions by repeating the same action over and over.   But why?
Addictions, whether they are to food, alcohol or an obsessive-compulsive habit such as hand washing, are how we self-soothe to deal with our unpleasant, anxiety-prone reality.
I have a client who I've worked with to release a lot of self-sabotaging behaviors. She wasn't exercising enough, drinking enough water, or eating well.   We released the negative beliefs, emotions, addictive thought patterns and feelings of sabotage, and now she has developed healthy food, water and exercise habits.
But now that she is on a healthy streak, losing weight and looking great, she had a fear that she could self-sabotage again. So we asked her subconscious, "what triggers her to self-sabotage?"  The answers were enlightening, and likely relevant to most or all of us!
Her subconscious revealed that she could be triggered to self-sabotage when:
Read More