New Hope For Alzheimer's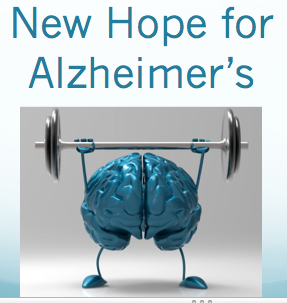 Do you know anyone who's life has been cut short by symptoms of Dementia or Alzheimer's?
Are they desperate to get their brains back? 
You've probably heard that there is no cure for Alzheimer's.   But as a Neuroscientist, Epidemiologist and Holistic Brain Health Practitioner, I am more optimistic about prospects for recovery than most Western Medical Doctors.  Why?
I've presented this information to several audiences, and was asked to make a video so that it can be shared.   Since I made this video, thousands of early onset Alzheimer's patients have recovered!
To read more about my experience with reversing Alzheimer's:
Alzheimer's patient shows dramatic improvement with the Body Code
Alzheimer's patient continue to improve with the Body Code
"I engaged Dr. Tina to work with my mother who had severe disorientation, confusion, lack of executive brain functioning, and delusional thinking.   Dr. Tina helped to rebuild my mother into someone who has purpose, meaning, and dramatically more understanding of her life and surroundings than she did before. She has gone from being completely dependent to a valued contributor to her community. "

                                                                                                                        -Daniel Suboski, Pender Island, BC
To get my 3 Secret Strategies to Reduce Your Risk of Dementia and to get my upcoming talks and webinars for people with dementia and their families: sign up here:
Yes!  I want my 3 Secret Strategies!
Want to learn more about the methods I use?
Here is more information about how I release subconscious barriers using the Body Code.
For a better sense of what is possible, listen to my interview Releasing Subconscious Barriers, the Key to Health and Happiness.
Know anyone who is ready to let go of brain fog, the memory challenges, the disorientation and wants to be able to focus again?  Please use the social media buttons below to share this important information with them!