How Childhood Trauma Affects Physical Health
I had a client who had been coughing for months.   Her breathing felt tight and restricted, and it was compromising her ability to talk and sing and breathe!   We released exposure to cigarette smoke in her life and from her ancestors, and the coughing decreased but persisted.   What did we have to release before the coughing stopped?
Western medicine has known for a long time that stress increases our risk of a huge range of chronic diseases. Usually the recommendations are to decrease your current sources of stress, like to work less, relax more and do yoga or meditation.   This is one reason why findings from a 17,000 people in the Adverse Childhood Experiences (ACE) study are so profound.   They looked at childhood trauma and risk of obesity, chronic diseases, mental health outcomes, and they found that the more trauma a person had in their childhood, the higher risk they had of just about everything!
The ACE study asks about emotional and physical abuse and neglect, about your parent's mental health and whether they were addicts or went to prison. You can take the ACE quiz here.
The study found that the more adverse childhood experiences, the higher the risk of obesity, autoimmune diseases, frequent headaches and migraines, heart disease, liver disease and chronic obstructive pulmonary disease.
They also found dose response relationships between the number of adverse childhood experiences and worse mental health outcomes, such as depression, anxiety, difficulty controlling anger, addictions, and more.
For a wonderful presentation about what was found in the ACE study, check out this TED talk by Nadine Burke Harris:
Given my experience as Neuroscientist, a Psychiatric Epidemiologist and a Holistic Healer, these findings make complete sense to me from a variety of perspectives!
Neurobiologically, we know that early life stress can causes an abnormal stress response in adulthood, and increase one's susceptibility to depression. Depression in turn impairs our ability to take good care of ourselves. Thus we are less likely to get enough sleep, exercise or eat well, and more likely to abuse our bodies with addictions.
High levels of stress hormone can impair the immune system and lead to excess inflammation. Excess inflammation is major contributor to chronic diseases.
Early life stress can affect a variety of systems in the brain that involved in our response to stress, our social attachments, our mood and our abilities to learn and remember.   With an increased response to stress, and lower mood, our need to self medicate (often via addiction) becomes higher.
One of the most surprising finding of this study was how common it was to have an adverse childhood experience. Out of a population of 75% whites, and 75% with a college education, 67% had at least one adverse childhood experience!
So if we've had adverse childhood experiences, is it too late for us? Are we doomed?  I don't think so.   But it may take more than what counseling can do to reverse the impact.  
With my client who had been coughing for months, we had to release the trauma underlying it. For her, the trauma came from various points in her personal history, and much of it was inherited.   Now she is able to breathe normally and the coughing is gone!
When I work with clients with depression, anxiety, phobias, addictions, clients who self-sabotage, or want to work on other health concerns they have, we always have to identify and release old outdated belief systems that they may no longer be consciously aware of, but were stored away in their subconscious and contributed to pain, or dis-ease.   Emotions, sabotage, cording, memories and much more from years past and even from our ancestors can be identified and released. Yoga can relieve current stress, but neither yoga or counseling are sufficient to identify and release the subconscious programming. We find that using the Body Code to release the underlying causes, whether its emotional, toxins, pathogens, or nutritional is almost always enough to reverse the problem!
Now I'm sure some of you are thinking, ok I need to release my childhood trauma, but I'll wait until….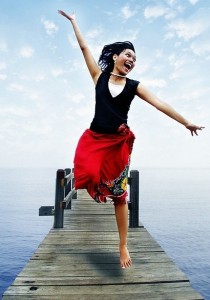 Don't wait!   You can't predict when you'll start to show symptoms and once you do, it will be more expensive it will be in the long run.   Plus releasing childhood trauma has residual benefits!  It allows you to experience life more fully, more passionately and more enthusiastically!   Why put that off?
So if you are ready to release your adverse childhood experiences, and lower your risk of dis-ease, check out what is possible and give me a call at 1855 ENERJOY to schedule your complimentary consultation.
"Coughing Due to Cigarette" courtesy of Goldy from FreeDigitialPhotos.net