3 Types of People That Leave Your Heart Broken

I had my heart broken so many times that after each breakup, I would get guarded and fearful around intimacy.  In my healing journey, in addition to releasing the pain and anguish, I would get determined to figure out why. I needed to know what I did to contribute to the demise of this relationship, and if there was something about this person I attracted into my life, so I would know what to avoid in the future.
I needed to identify the types of people that would leave me heart broken.
My pattern was that I met men who were initially interesting and charming, but once I started showing interest, they would change or withdraw.   I have since learned that as an empath, I am particularly susceptible to attracting these types of people.
What types of people should you avoid?
1.  The secret narcissist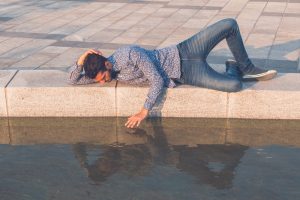 There are several types of pathological narcissists, and while some are more obviously grandiose and braggarts, others can be much more subtle.   Some narcissists at first seem friendly, engaging and are often very charming. They often exude an incredible amount of confidence and make a great first impression. But as you get to know them, you realize they are bad listeners and the entire conversation becomes about them.   If you get close to a sociopathic narcissist, they are manipulative and cruel, and can do incredible damage to your self-esteem. Narcissists don't have the capacity for empathy, and can become particularly sadistic, vindictive and cruel.
Learn more about Why You Might Want to Stay Away from Prince Charming here.
2. The seductive narcissist
The seductive narcissist often will admire and flatter you, but her ultimate goal is to use you.   You can learn more about the seductive narcissist here.
3.  Someone with an avoidant attachment style
When we are babies, we need to create healthy emotional bonds with our parents. If our mother gave us the nurturing and care we needed, then we are likely to form a secure attachment style and have healthy relationships. But for the rest of us, we either have the anxious or avoidant attachment style.   People with either the anxious and avoidant attachment styles want, and yet fear being emotionally intimate with others.
People with the anxious attachment style, want to be close, but can sabotage the relationship by being too overly concerned about their partner, and may not give them a reasonable amount of space.
People with the avoidant attachment style avoid closeness and value self-sufficiency. They avoid commitment and aren't comfortable sharing feelings.   They are regularly unhappy in the relationship and will idealize other relationships.   They are quick to leave and move on if you try to get too close.   People with anxious attachment and avoidant attachment styles are usually attracted to each other.   You can learn more about the attachment styles here.
One thing that is common between these personality types is that narcissists and avoidant attachment styles have heart walls. A heart wall consists of trapped emotions around the heart that prevent them from passion and from emotional intimacy with others. Learn more about the heart wall here.
Do you have a pattern of falling for partners that leave your heart broken?   Knowledge is power!   The more we know about these personality types, the more we know about who to avoid!  It is one reason why it is important to take the time to know them before committing!
Are you feeling defeated by love?   Are you wanting a relationship, yet afraid to get yourself out there? If so, check out my Learn to Love Again Program and contact me to schedule a complimentary 20 min consultation.
Do you know anyone who struggles with relationships?  Sharing is caring!   Please use the social media buttons below to share this with others!  Save your friends from all the heartache!