Three Favorite Coronavirus Prevention Strategies
Are you concerned about getting the Coronavirus?
As of March 30th, 2020, I think it's going to be awhile before it's safe to socialize in person.    And even when we do get back into society, we're going have to be very careful.
The good news is that I have found some amazing ways to keep ourselves relatively safe!
Let's Talk About Lowering Your Risk
I can't make any promises, but it's about lowering your risk.
The Coronaviruses replicates in your mucous membranes. That is in your eyes, your nose, and your mouth. They stay and replicate there for about five days on average, but it ranges between two and fourteen days.
The virus can then start to descend into the lungs and that's where you start to feel the symptoms. That means if we do get exposed, we have some time to do something about it.
The problem is because this virus lingers in the air and lasts for days on surfaces, we never know if we've been exposed.
So we have to act like we've been exposed.
This is why the CDC recommends that we be very vigilant about washing our hands and NOT touching our face.
But I believe there is more that we can do.
Wash More Than Just Your Hands
First of all, I, like many others struggle with the "do not touch your face" recommendation. If someone were to offer me a million bucks to not touch my face, I bet I'd still fail.
So I recommend, not just washing our hands, but when we get home, washing our face, using the 20 sec rule. If we want to get even more vigilant, if we're more worried about it, we can even wash our hair or take a full shower.
But I also really like the idea of washing out our mucous membranes! You can do this with a Neti Pot at a standard drugstore. You fill it with water and you add a saline rinse and you rinse out each nostril individually over the sink. Then you want to gargle on the back of your throat. I would also use a sterile saline solution to rinse out your eyes.
I can't promise that you won't get the Coronavirus with this strategy, but you should be reducing your risk by washing away any virus, allergens or pathogens that have chosen to linger too long.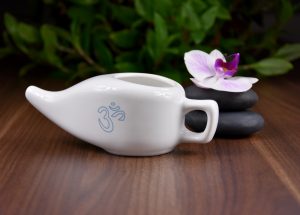 You are in a fight against a virus. In the battle of you vs. the virus, this strategy, like all my tips, are about doing what you can to stack the deck in your favor.
With the Coronavirus, It's Better to Disinfect
But I don't think this tip is as good as the next tip and I'm about ready to give you. I'm super excited about something that I learned from Dr. Klinghardt, who's a prominent naturopath in Woodinville, WA.
It's called hypochlorous acid HOCL. It is made endogenously by our white blood cells to kill pathogens, and it kills a huge variety of viruses and bacteria, including the Coronavirus!
We don't know it yet if it kills SARS-CoV-2, but even the hospitals that are Coronovirus epicenters in China use it!  Dr. Klinghardt's office infuses this Briotech HOCl throughout their office, and they believe they have the safest office in the country because of it!  It reduces the infectivity of another Coronavirus tested (plus other pathogens) by 99.999%.
So again we don't know if kills SARS-CoV-2, but given that China has flattened their curve, and that it's been proven to reduce the infectivity of so many other pathogens, I would favor the hypothesis that it reduces the infectivity, and probably by quite a bit!
Again, it's about stacking the deck in your favor.
Disinfect Face and Hands
So our hypothesis is correct, we can use HOCL to disinfect our mucous membranes! Briotech is the only company that I know of that sells the purified Form. You can get the *Briotech topical skin spray here.
With Briotech HOCL, you can actually spray this to disinfect your eyes, you can spray it up your nostrils, and you can spray it in your mouth!
So whenever you go out, you can spread all over your face and on your hands regularly as needed. I even spray it on my hair because I've read that the virus can last in the air for up to three hours!
Now because this virus lasts on surfaces for up to days we want to disinfect anything that will come into our house.
Disinfect Everything That Comes Into the House
There's a fantastic video by Jeffrey VanWingen, MD who teaches us the "sterile technique".  It's about how doctors keep everything sterile and he shows us how to sterilize our groceries as we bring them into the house.
The video is here and I strongly recommend watching it:
However in his video he uses more conventional cleaners, and with the knowledge of HOCL, there are easier and cheaper ways that we can do this!
There's a much cheaper form of HOCL that you can buy through a company called *Force of Nature.
You make your own HOCL with an electrolyzer.   You fill it up with water, and then they give you these tubes of salt and vinegar and water, and you pour it in, and then you turn it on.   It starts to fizzle.  It take nines minutes to create hypochlorous acid and sodium hydroxide.
Then you transfer it into a spray bottle it, and it lasts for two weeks.  You can spray just about everything with it and if you accidentally sprayed your hands no problem, it's not toxic. In fact it's very biocompatible! But I would not spray this product directly onto my mucous membranes!
But other than that they even recommend using it to wash your toothbrush and disinfect fruit and vegetables!
You can spray it on a towel and wipe down your iPhone, your keys, your groceries, your grocery bags, anything that you bring into the house.   You should also use it to disinfect any packages.
I even use it to disinfect the clothes that I wear when I go to public places!
You can spray it out your outer wear, like a jacket, and hang it on a hanger, so you don't have to worry about it harboring a virus!
I love how easy it makes cleaning! There are no studs so you don't have to worry about rinsing things off. You could just spray and let it dry!
Some surfaces like metal don't dry very well with Force of Nature, so you might want to wipe them down.
And what's even better, is that it actually ends up being cheaper than most conventional cleaners after you buy the initial electrolyzer!
So you can see why I'm super excited about these products!  They are so biocompatible and there's no fragrances. It just smells like saline solution!
And check out what they say about their products ability to kill pathogens, including the Coronavirus:
They also have a great article on what to clean.
What Else is Possible?
I believe that while we don't have a cure for COVID-19 yet, we know that some people are barely phased by this virus and others can die. This means the pre-existing conditions and lifestyle could very well play important roles in how we respond to this virus.
We also know that specific nutrients are good for the immune system and there are plenty of pathogen-fighting strategies from Chinese medicine, naturopathy and energy medicine and even nature.
There hasn't been enough time to do a lot of research with this particular virus but there's so much known about fighting pathogens in the alternative medicine community!
So if you'd like to stay informed, make sure you sign up for my newsletter!
And if you believe that you have caught the coronavirus, know that I have your back!  There is so much that I can do to help!  My mission is to keep everyone I know from having to go to the ICU. So contact me for a complementary consultation!
As an intuitive, I can ask your subconscious some very useful and interesting questions.
We have cells that are a part of our immune system, called natural killer cells.  They kills cells that don't belong, like bacteria, cells that have been commandeered by viruses and even cancer cells.
I can ask your subconscious questions to determine if you have enough natural killer cells to fight pathogens.   Personally, I realized I only had 3% of what I needed!   But then I found a natural product that costs less than $10 to bring it up to 100% in less than 24 hours!
If you are worried about getting the Coronavirus, or if you think you have it, contact me ASAP for a complimentary consultation.   On this call, you'll get a better sense of how I can help you, and you'll learn about your level of natural killer cells, and *get a link to the product that brought mine up so quickly in 24 hrs!
Meanwhile, remember, we need to do everything you can to stack the deck in our favor.
Together, we can fight this!
* I am promoting these products without compensation from the companies, or their knowledge.   However, if you use my link with Force of Nature, I've been told I'll get some free cleaning capsules.