How to Get Younger With Age

My feline fur baby Tuk Tuk just turned 15.  One and a half years ago, she developed horrible leg cramps that seemed to strike randomly.   She'd scream with fear, and then struggle to walk.   I realized that by massaging her back legs, I could get the blood flowing again, and she'd be back on her feet as if nothing had happened.  I was very concerned.
The diagnoses
As a Holistic Brain Health Practitioner, I was determined to figure out what was going on.   Over the next few days I realized she was getting blockages of blood flow in her hind quarters.   I soon realized that she probably had diabetes. Using the Body Code, I did what I could to clear the clot, but I got that she also needed Chinese medicine.   I took her to Ancients Arts Veterinary Clinic where Dr. Darla Rewers confirmed that she did have diabetes, and put her on a raw food diet and gave me a Chinese medicine to give her.   She also discovered Tuk Tuk had Rhuematoid Arthritis (RA), and prescribed hyaluronic acid to lubricate her joints, and glucosamine chondroitin for cats.  Clearly she wasn't on the path to get younger with age!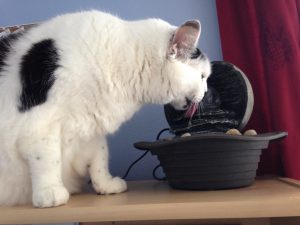 Between the raw food, an 8-month supply of Chinese medicine, and the healing work I did, Tuk Tuk no longer has diabetes.   Its been 8 months since she stopped taking any medications for it, and I haven't seen any signs of the disease, both from her behavior or from checking in with her subconscious.
There is no cure for autoimmune diseases.. or is there?
I used to think that while we could help reduced the symptoms of autoimmune diseases, we couldn't stop the autoimmune process.   In fact the experts in functional medicine believe if you have an autoimmune disease, you will need to have a strict no sugar diet, not eat dairy or gluten, and be very careful in managing your stress for the rest of your life.   In learning more about autoimmunity develops, I decided to see if I could stop cells in the immune system from attacking the self.   I've been working to reverse autoimmunity with my own health, as well as with clients.  Naturally, I decided to see if I could stop Tuk Tuk's immune system from attacking the synovial fluid in her joints.
Within 24 hrs of doing this work, I got that the antibodies to her synovial fluid were dropping. Within 48 hrs, she stopped needing her hyaluronic acid and glucosamine chondroitin for her RA.   I've been checking in, and not seeing any signs of discomfort.   In fact, she now makes daily dashes across our apartment, jumping up to windows, or furniture.   She also chases the red dot from the laser pointer when I play with her.  It had been 18 months since she dashed across the apartment or played with the laser pointer!
What Reverse Aging Looks Like:
filmed 4/14/2019.
I believe we can get younger with age!
After practicing the Body Code for over 7 years, I no longer believe that we need to live with most diagnoses we develop later in life.   Nor do we need to be dependent on medications with all its accompanying side effects.    When a client seeks my help whether it's for a mental or physical health concern, habit change or a relationship issue, my intention is to completely eliminate the problem.  I can never promise a cure, nor can I promise by working with me that you will start dashing across the house, chasing a laser pointer.   However, if you'd like to see why my success rate is so high, why not schedule a complimentary consultation to see what is possible?  Do you really want to miss out on the perfect chance to get younger as you age?